Officers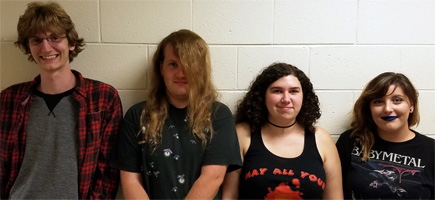 The 2016-2017 officers of the club.


President
Name: Chris B.
Age: 20
Birthday: September 11th, 1995
Hometown: Lititz, PA
Year: Junior
Major: Digital Forensics
Favorite Anime: Jojo's Bizarre Adventure, Shiki, Nichijou, Another, Inferno Cop
About: I earned my Eagle Scout Badge in 2013, and have been trying to become the best leader I can ever since. I remember watching anime as early as 10 years old, and haven't stopped watching since. I'm the first consecutive president for this club in a very long time. I'm also an avid kaiju fan. In my opinion, 90s anime is all-around the most visually entertaining.


Vice President
Name: David
Age: 23
Birthday: September 26, 1992
Hometown: Lewisburg, PA
Year: Junior
Major: TBA
Previous positions: Public Relations 2013-2014
Favourite Anime: Fairy Tail, Natsume Yuujinchou, anything romance
Favourite Manga: Fairy Tail, Deadman Wonderland
About: I watched Pokemon for a while when I was a kid, but I generally disliked anime, and with some pressure from my brothers I gave up on Pokemon. My interest in anime rekindled in 2011 when I decided to watch Bleach and a few other dubs, and then with Mirai Nikki, I started watching subs.


Secretary
Name: Kat
Age: 20
Birthday: April 3rd, 1996
Hometown: Clinton NJ, Easton PA
Year: Junior
Major: Public relations
Minor: Emergent Media and Chinese
Favorite Anime: Dusk Maiden of Amnesia, Shiki, Fullmetal Alchemist, Durarara!, Danganronpa, Noragami, Another
Favorite Manga: Uzumaki: Spiral into Horror, Wolf Children
About: I like cosplaying, Taoism, video games, Martial Arts (Wushu), and hula hooping!


Treasurer
Name: Capria
Age: 20
Birthday: April 29th, 1996
Hometown: Berwick, PA
Year: Junior
Majors: Psychology and Anthropology
Favorite Anime: Steins;Gate, Blood+, xxxHOLIC
Favorite Manga: Too many too count
About: The first anime that I was introduced to was Sailor Moon when I was a kid. However, it wasn't until Middle school where I become a fan of it. Now, I'm a sub over dub type of person.
Former Officers
Officer History
Advisors
Name: Jeff E. Long
Age: Doesn't really matter because once you turn 40 every other birthday is just that, a birthday
Birthday: January 6, a Capricorn; born in the year of the Dragon by the Japanese reckoning of the Chinese lunar calendar (On January 1, 1873 the Japanese changed over to the Gregorian calendar as another step toward "modernization"), but by the traditional lunar calendar still consulted in China and Korea I was more likely born in the year of the Rabbit
Hometown: Born in Tahlequah, Oklahoma the home of the Cherokee Nation (and I am 1/8th Cherokee), but I grew up just across the border in Siloam Springs, Arkansas and thus became a Razorback fan for life.
Dept in the College: Associate Professor in the Department of History teaching East Asian history
Favorite Anime: Introduced to anime when one of my Japanese language teachers while studying in Tokyo brought Kaze no Tani no Naushika into class for us to study to improve our Japanese and I guess that I still haven't gotten over the magic that Miyazaki infuses into his anime nor the environmentalist message that he often includes in his works. In addition, the area where I lived while in the suburbs of Tokyo was the background for his 1988 film Tonari no Totoro so there is a connection back to my personal experiences living in Japan as well.
About: Became interested in Japan after taking some courses on East Asia as an undergrad and spent 1985-1986 as an exchange student at Nanzan University in Nagoya, Japan. I loved the experience so much that I returned in 1987 for another two years of language study in Tokyo and worked for a Japanese corporation, Miyaji Gakki, for a year before returning to start my graduate studies in 1990. Twenty years later, little did I know that a career and a love for East Asian history and culture in general would ensue. While I might not always be able to attend the meetings regularly, I do want to wish the club all the best and will do what I can to help make it a success. Gambatte ne!
Name: Douglas Karsner
Specialization: United States business and economic history, urban, diplomatic, Japanese-American Relations.
Age: Old enough to have watched Astro Boy, Gigantor, and Speed Racer when they were first shown on American TV. Still enjoy these "originals".
Hometown: Grew up in the suburbs just west of Philly.
Favorite Anime: Among more recent anime, Cowboy Bebop is #1 for many reasons. Like Long Sensei, I am amazed at Miyazaki's works.
About: Taught at Temple University Japan in Tokyo from 1993 to 1996 before coming to BU. Did a return engagement last summer and hope to do so again in the future.
Other Japan Interests: Kaiju eiga especially Gojira and Gameraj. Music - my current favorite Japanese band is "The Privates". Sumo - watch every basho on NHIC satellite TV. Vending machines - in all their wonderful vavieties.